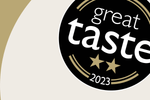 BLACK MILK WINS 5* STARS AT THE GREAT TASTE AWARDS
🥳🥳🥳🥳🥳
We are beyond delighted to announce that we have been awarded an incredible ⭐⭐⭐⭐⭐ at the great taste awards.
❤
Every single product we entered received at least a ⭐. Our absolutely delicious Pistachio Cream stole the show with ⭐⭐
❤
Please note as submissions were made in January 2023. Our delicious Madagascan Vanilla & White Chocolate Spread was not entered
BLACK MILK Hazelnut Sauce & Pistachio Sauce also won a ⭐ each!
They will return in the Autumn
Liquid error (layout/theme line 192): Could not find asset snippets/limitsify.liquid